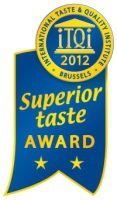 The « iTQi Superior Taste Award », a quality seal in flavour
Our Macal 9-month cured ham was acknowledged with the Superior Taste Award.
The Superior Taste Award is the only quality seal in flavour granted by opinion leaders, Michelin awarded Chefs and Sommeliers.
The jury at the iTQi is composed by members from 13 different countries who work in the most prestigious culinary institutions in Europe, such as the Académie Culinaire de France, the Federazione Italiana Cuochi, the Associação de Cozinheiros Profissionais from Portugal, the Jeunes Restaurateurs d'Europe, the Associacion de Cocineros de España, the Verband der Köche Deutschlands, as well as the Association de la Sommellerie Internationale (ASI) for drinks.  
A review filled with shining stars
Like the famous and well-known Michelin guide, the iTQi does not organise a competition per se; instead it grants rewards to the products themselves based on their merit. Only the products which can achieve a score above 70% will be awarded the Superior Taste Award with one, two or three stars according to the following classification:

1 golden star: total score between 70% and 80% = good flavour
2 golden stars: total score between 80% and 90% = notable flavour
3 golden stars: total score above 90% = exceptional flavour
Pleasure comes first!!
To attribute the scores, each product is submitted to a blind tasting and a rigorous sensorial analysis process.
The Jury's Objectivity
All the members of the jury receive a sample of the product at the same time and are informed about the category to which the product belongs. This is the only additional information provided, nothing is mentioned regarding the origin of the product, and it isn't allowed for them to see the products' packaging, in order to guarantee an evaluation strictly based on the palate and sensorial elements.  
Approch by the members of the jury
The jury receives instructions to evaluate the products as if in a familiar context, instead of judging them as products to be served in their sophisticated restaurants.
Report on the organoleptic analysis
Each product is submitted to an analysis in which criteria such as first impression, visual aspect, aroma, texture, residual flavour, etc. are taken into account by each member of the jury. They also write their comments and proposals on further improvement of the product if applicable.
See news...
For more information, visite the website www.itqi.com